RACE INFORMATION
EVERYTHING YOU NEED TO KNOW
Manulife Danang International Marathon – 10KM is a middle distance run, but for many recreational runners, the 10KM Run still poses as a challenge. Regardless of the shorter distance, runners are still recommended to undergo training prior to entering the race.
STARTING TIME: 5:00AM, Sunday, August 9th, 2020
CUT OFF TIME: after 2:30 hours since starting time
*Notice: The official race day of 10KM is Sunday, August 9, 2020. You can collect your race kit on 2 days: Friday, August 7 from 3:00 PM – 7:00 PM & Saturday, August 8 from 8:30 AM – 7:00 PM
NOTE:
1. The resident fee is applied to:
– Vietnamese passport holders.
– International runners who are living in Vietnam and have a resident card (please bring your temporary resident card when you come to the Race Kit pick up, we will not accept your passport or any other documents). In the case you do not have your resident card along with you on the Race Kit pick up day, you will have to pay the difference between the local and international fee as we cannot verify your residence.
2. Registration will close once we reach capacity.
3. Free slots are eligible to place as winners and receive the trophy but those won't receive any cash or sponsors prizes
4. Registering after Jun 18, participants still receive Race kit with full of items; however, participants of 42.195km, 21km & 10km cannot customize the name on BIB.
How do I register?
Online Registration:
Register & pay online: You can pay with Visa/MasterCard or ATM card with Internet banking.
Register & pay at convenience stores: Please see here for more information.
Offline Registration in Danang:
Address: 3rd Floor, Vietnam TravelMART Building, 27 – 29 Ly Tu Trong Street, Hai Chau District, Da Nang City.
Time: 8:00 – 12:00/ 14:00 – 18:00, weekdays and 8:00 – 12:00 on Saturdays.
Please contact 1800 1735 or email info@pulse.vn for further information.
Entry requirements
All participants have to be 12 years old and above as of 2020 (in birth year).
Participants are obliged to read and fully comply with all the rules, regulations, and terms before submitting registrations for Manulife Danang International Marathon 2020.
While the event organizer has the duty to ensure safety and provide first-aids and any emergency services to participants, you are responsible for making assessment of risks to the health and safety of yourself and to act upon risks once identified. The organizer recommends you carefully prepare with proper training, especially heat training, given the weather conditions in Danang.
All participants must provide their emergency contacts and the information must be accurate. The emergency contacts needs to be written behind the bib number once you receive your bib.
The entry fees and any other related fees are non-refundable and are not transferable under any circumstances.
Entitlements

Bag drop – Running T-shirt – BIB – E-Certificate – Medal – Service Posts – Medical Care – E-guideline.
Note:
E-Certificate will be uploaded immediately on website when having the result.
Medical care is available at certain mobile locations and the finish line.
For 10-kilometer race: Medals will be given when you finish the race. Did Not Finish (DNF) participants will not be eligible for the medals.
BIB number should be pinned in front of your running shirt/singlet in a visible way.
General Info will be provided in the electronic race guideline (To be updated).
Race Map & Route review
* To be updated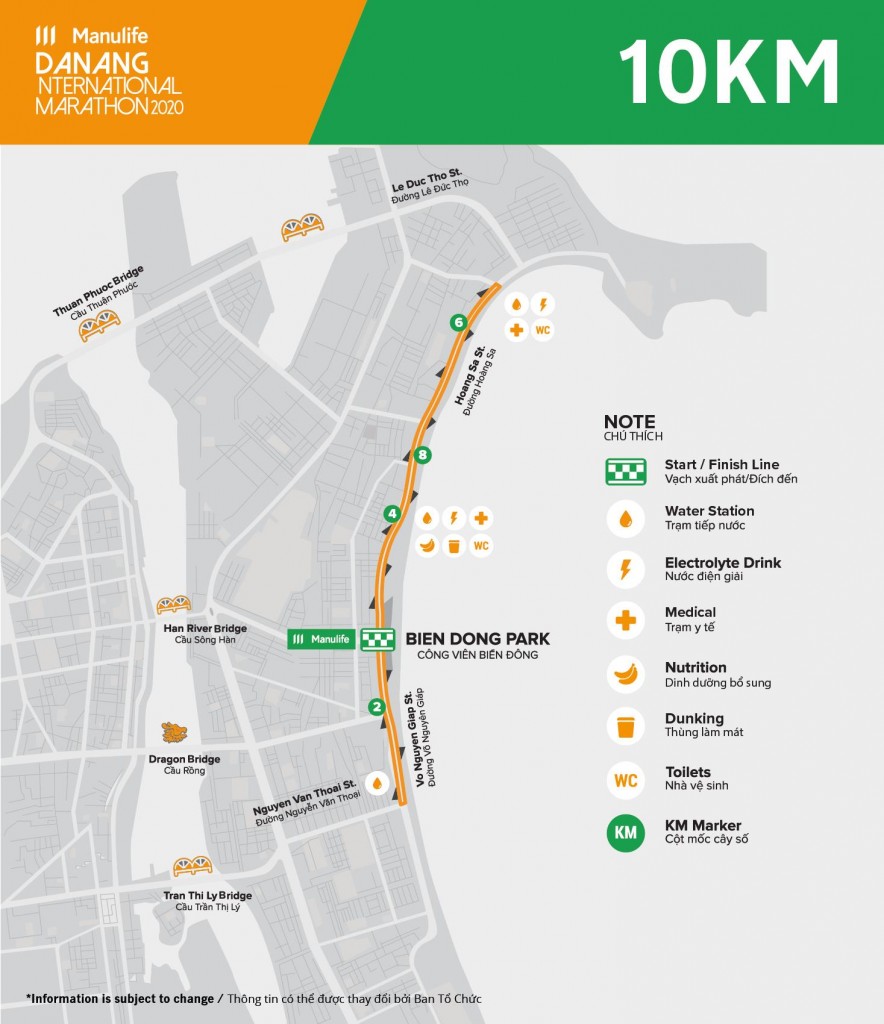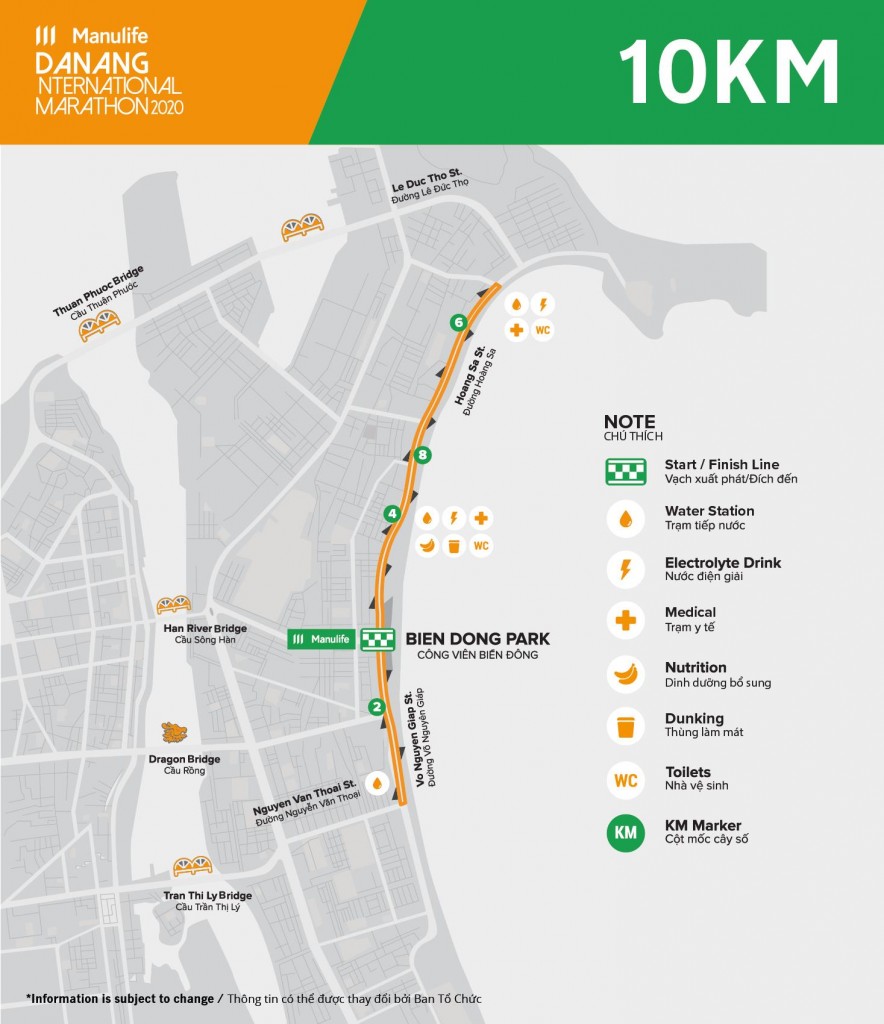 Transportation to the Start/ Finish Line:
The Start/Finish line of the race is in front of Bien Dong Park, Vo Nguyen Giap Str., Da Nang, which locates in the city centre.
For your convenience, we recommend you transport to the event site using:
Taxi: Taxi Mai Linh (+84 236.3565.656); Vinasun Taxi (+84 236.3686.868) or Tien Sa Taxi (+84 236.3797.979).
Taxi/ Motorbike Ordering Apps: Grab; Go-Viet; FastGo.
If you're staying at a hotel, we also suggest you inform your hotel concierge/reception of your planned event participation, so that they may arrange your transfers to and from the event site appropriately.
Schedule, Start & Cut off time
*Please see detailed information of 10KM schedule here.
Upgrade/ Downgrade/ Transfer
Things to be aware of
Weather Conditions: Extremely hot and humid weather in Da Nang may affect your health and safety conditions on the race date. It is advised to all runners (especially foreigners) to well prepare mentally and physically prior to race. Read our training tips here on running under extreme heat.
Emergency Contact: It is required for all participants to provide their Emergency Contact to the Organizer and to note their Emergency Contact behind their BIB number for any emergency situations.
Water Stations: There are water stations at every 2 kilometers including cold water and electrolyte drink.
Aid Stations: There are 4 ambulances and 5 medic stations on duty along the course.
Course: The course will be coned and clearly marked with distance kilometer markers. There will be volunteers and police officers at most intersections.
Timing/ Results: The Full and Half Marathon will be chip-timed with results updated as soon as available.
Bag Drop: Bag-drop is available on the race date, however, we highly recommend you to leave all valuable items with you. We will not be responsible for any losses or damages of personal belongings.
Rules and Regulations
By submitting your registration, you have agreed to enter and participate in the following event, Manulife Danang International Marathon 2020, and abide by all the terms and conditions set by the city officials, organizers, and event support groups.
See details here.
FAQ
Visit here to find more information about Manulife Da Nang International Marathon.