Manulife Danang International Marathon has been welcoming thousands of runners this March 20, 2022. And you, the Danang locals, your enthusiastic and exciting support help bring them the motivation and memorable running experience.
All the worldwide marathons, such as Boston Marathon, New York Marathon, Tokyo Marathon,… they have achieved success thanks to spectators spilling into the streets to cheer on and shout for the runners. Therefore, the marathon is not just a race for runners only, it is a festival where the whole city is invited to come, participate and enjoy the dynamic spirit.
If you are Danang people, along with our Marathon, from now on, let's be prepared to welcome all the runners who are coming to our beloved city.
HOW TO SUPPORT THE RUNNERS?
If the race passing by your house:
Find out if the race course passes by your resident area, if yes, calling on your family to show up on the course's side and cheer on the runners.
*Find out the race course here.
If the race not passing by your house
Join our cheering stations set up along the course and the Start/Finish area: 
Start/Finish Line: Bien Dong Park.

Station 1: Crossroad of Vo Nguyen Giap – Nguyen Van Thoai.

Station 2: Han River Bridge

Station 3: Thuan Phuoc Bridge

Station 4: Crossroad of Hoang Sa – Yet Kieu

Station 5: Crossroad of Hoang Sa – Le Van Thu
At the cheering stations, there will be cheering volunteers, music bands, brand cheering activations and family, friends of runners.
*The cheering station map will be updated soon here.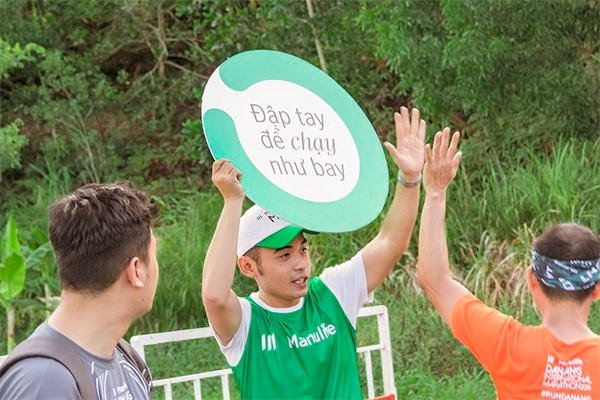 BE CREATIVE WITH YOUR WAY YOU CHEER
Bring your signs and cheering tools to make noise and excite the atmosphere and "turbo boost" all the runners.

You are encouraged to be creative with the signs and the way you support the runners, otherwise there are available signs from us that you can print out and color them.


Download cheering signs here: *

Updating soon.
SHARE YOUR OWN "CHEERING STATION"
Share the moments of you, your friends and family on social media and don't forget to hashtag #ManulifeDanangInternationalMarathon. We and all the runners would love to see your photos, videos.
Your photos, videos will be shared on our Fanpage Manulife Danang International Marathon so runners will memorize your place.
WE ARE GRATE TO HAVE YOU
THANK YOU!