Say Hi with a Smile!
Danang people are warm and friendly. Although they may lack English skills, they more than make up with it their smiles and charades. These kind people will really appreciate a smile!
Drink ice coffee and watch the sunrise
One of the best things to do in Danang is kick-starting your day with a cup of famous Vietnamese ice coffee (Cà phê sữa đá), watching the city come alive..
Explore Danang by motorbike
With the great transport infrastructure, spacious roadways and bridges, this is your chance to take the courage and get on a "xe om" (motorbike taxi). We guarantee there would be no better experience than that!
Visit the Dragon Bridge at 9pm on weekend:
All the bridges in Danang are glorious at night, but Dragon Bridge has a different and distinctive beauty. According to local beliefs dating back to the Ly Dynasty, the dragon is a significant symbol of power, nobility and good fortune. The Dragon Bridge is "A song of fire and ice" for Vietnam. On weekends and annual festivities, the state-of-the-art bridge offers a dazzling display of lights, fire, and water that no first-time visitor to Danang should miss out on!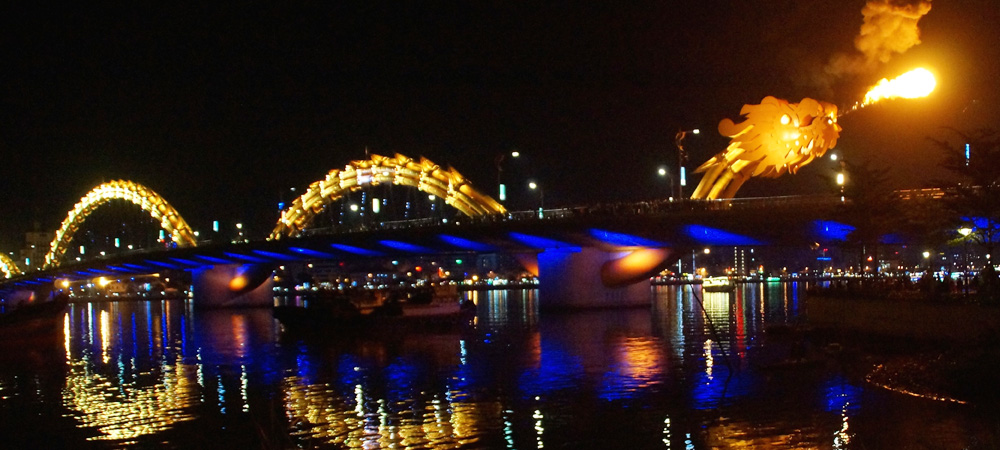 Nightlife at the riverfront
The riverfront is the best place for nightlife in Danang. Located on Bach Dang Street, the riverfront has a good view of the Han River and Dragon Bridge and is always bustling. There is a wide variety of activities available, you can choose to have a coconut ice cream, or go to a local bar like Waterfront or Pine Pub for live music.